Bengali Lyrics
Majhe Majhe Lyrics (মাঝে মাঝে) By Shreya Ghoshal & Kumar Sanu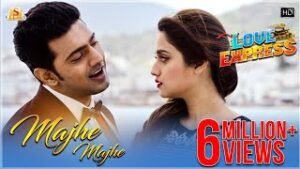 Majhe Majhe Lyrics (মাঝে মাঝে) By Shreya Ghoshal & Kumar Sanu
মাঝে মাঝে – Majhe Majhe Bangla Song Lyrics. This song Singing by Shreya Ghoshal & Kumar Sanu. Music Composed by Jeet Gannguli. This is a Fantastic song. Everyone will have a lot of fun listening to this song. I hope, everyone will find peace by listening to the song. This song Publish "Surinder Films" youtube channel. If anybody need Bangla Lyrics & English Lyrics, they can easily got it by this website.
Song Information:
Song: Majhe Majhe – মাঝে মাঝে
Film: Love Express
Music: Jeet Gannguli
Singers: Shreya Ghoshal & Kumar Sanu
Lyrics: Prasen
Produced by: Shree Venkatesh Films Pvt. Ltd. and Surinder Films Pvt. Ltd.
মাঝে মাঝে লিরিক্সঃ
আজকে হাওয়া ছন্নছাড়া
আজকে হাওয়া বেবাগী
আজকে সময় খোশমেজাজী
আজকে সময় সোহাগী
(আজকে হাওয়া ছন্নছাড়া
আজকে হাওয়া বেবাগী
আজকে সময় খোশমেজাজী
আজকে সময় সোহাগী)
মাঝে মাঝে তোর কাছে
জেনেশুনে হেরে যাই (২ বার)
কিছু কথা বলে ফেলি
কিছু কথা ছেড়ে যাই
অচেনা সকাল হোক
উদাসী বিকেল হোক
বারে বারে মনে হয়
তোর হাতে মরে যাই
মাঝে মাঝে তোর কাছে
জেনেশুনে হেরে যাই
কিছু কথা বলে ফেলি
কিছু কথা ছেড়ে যাই
(আজকে হাওয়া ছন্নছাড়া
আজকে হাওয়া বেবাগী
আজকে সময় খোশমেজাজী
আজকে সময় সোহাগী)
আজকে ঘুরি আয়
অন্য দুনিয়ায়
রাত্রি-দিনের অন্তহীনের
রূপকথায়
আজকে পাখি হই
চুপ জোনাকি হই
ইচ্ছে ডানায় সঙ্গে আমার
চলবি আয়
মাঝে মাঝে তোর নেশা
নিজেকে ছাড়িয়ে যায়
ও.. মাঝে মাঝে তোর নেশা
নিজেকে ছাড়িয়ে যায়
কখনো বা ছুঁয়ে ফেলে
কখনো হারিয়ে যায়
অচেনা সকাল হোক
উদাসী বিকেল হোক
বারে বারে মনে হয়
তোর হাতে মরে যাই
মাঝে মাঝে তোর কাছে
জেনেশুনে হেরে যাই
কিছু কথা বলে ফেলি
কিছু কথা ছেড়ে যাই
তুই না এলে আর, কী হবে আমার
সেসব কথা খুঁজতে গেলেই কান্না পায়
যন্ত্রণা হাজার, করছে পারাপার
তোর দু'চোখের তোর চিবুকের ব্যস্ততায়
মাঝে মাঝে তোর কাছে
জেনেশুনে হেরে যাই
ও.. মাঝে মাঝে তোর কাছে
জেনেশুনে হেরে যাই
কিছু কথা বলে ফেলি
কিছু কথা ছেড়ে যাই
অচেনা সকাল হোক
উদাসী বিকেল হোক
বারে বারে মনে হয়
তোর হাতে মরে যাই
মাঝে মাঝে তোর কাছে
জেনেশুনে হেরে যাই
কিছু কথা বলে ফেলি
কিছু কথা ছেড়ে যাই
আজকে হাওয়া ছন্নছাড়া
আজকে হাওয়া বেবাগী
আজকে সময় খোশমেজাজী
আজকে সময় সোহাগী (২ বার)
Majhe Majhe Lyrics By Shreya Ghoshal & Kumar Sanu
Ajke haowa chonnochara
Ajke haowa bebagi
Ajke somoy khosmejaji
Ajke somoy sohagi
Majhe majhe tor kache
Jeneshune here jai
Kichu kotha bole feli
Kichu kotha chere jai
Ochena sokal hok
Udasi bikel hok
Bare bare mone hoy
Tor hate more jai