Bengali Lyrics
Tumi Amar Jibon Lyrics (তুমি আমার জীবন) By Imran & Konal | BIR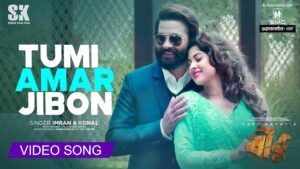 Tumi Amar Jibon Lyrics (তুমি আমার জীবন) By Imran & Konal
তুমি আমার জীবন – Tumi Amar Jibon Bangla Song Lyrics. This song Singing by Imran & Konal. Music Composed by Akassh Sen. This is a Fantastic song. Everyone will have a lot of fun listening to this song. I hope, everyone will find peace by listening to the song. This song Publish "SK Films" youtube channel. If anybody need Bangla Lyrics & English Lyrics, they can easily got it by this website.
Song Information:
Song : Tumi Amar Jibon – তুমি আমার জীবন
Singer : Imran & Konal
Music : Akassh Sen
Lyrics : Kabir Bakul
FILM: BIR (বীর)
PRODUCED BY : SUNAN Films & SK Films
তুমি আমার জীবন লিরিক্সঃ
ভালোবাসার মানুষ তুমি এমনই একজন
মিশে গেছে জারি সাথে আমার হৃদয় মন (২ বার)
অন্তর আমার তাই বারেবার বলছে সারাক্ষন
তুমি আমার জীবন আমি তোমার জীবন (২ বার)
চাইলেও তোমাকে পারবোনা সরাতে
তুমি-হীন আমি অপূর্ণ
ভালোবাসা হয়ে যদি জীবনে না জড়াতে
এ হৃদয় হতো প্রেম শূন্য (২ বার)
অন্তর আমার তাই বারেবার বলছে সারাক্ষন
তুমি আমার জীবন আমি তোমার জীবন..
তুমি আমার জীবন আমি তোমার জীবন..
তোমাকেই জেনেছি আমার এ পৃথিবী
তুমি সুখ তুমি আনন্দ
কাছে থেকে দূরে গেলে মিথ্যে হবে সবই
নিঃশ্বাস হয়ে যাবে বন্ধ (২ বার)
অন্তর আমার তাই বারেবার বলছে সারাক্ষন
তুমি আমার জীবন, আমি তোমার জীবন (৩ বার)
Tumi Amar Jibon Lyrics By Imran & Konal
Valobashar manush tumi emoni ekjon
Mishe geche jari sathe
amar hridoy mon
Antor amar tai barebar bolche sarakkhon
Tumi amar jibon ami tomar jibon
Chaileo tomake parbona sorate
Tumi heen ami opurno
Valobasha hoye jodi jibone na jorate
E hridoy hoto prem shunno
Tomakei jenechi amar e prithibi
Tumi sukh tumi anondo
Kache theke dure gele mitthe hobe sobi
Nishwash hoye jabe bondho